The lack of normal pullbacks in 2017 finally gave way this past week when stocks fell hard on Tuesday with the Nasdaq doing something no index has ever done before–hitting a new all-time intraday high and new 1-month low all in the same session. The good news, post-Tuesday, is that stocks did not follow through on the selling and have instead found support at or around their 50 DMAs. The bad news is that the bounce is beyond weak with the indexes barely going anywhere since while having two clear stalling reversal sessions on Thursday and Friday. This is the definition of a dead-cat bounce. It doesn't get any more dead.
This stalling action should come as no surprise to anyone that has been wise enough to read/follow our evening market commentary the past 2+ months. The Russell 2000 and DJIA's MACD and RSI(14) lines have been showcasing negative divergence since December (see chart below)! The Nasdaq and SP-500 followed suit this month. Now every index is clearly showcasing downtrending MACD and RSI lines with a clear set of lower highs and lower lows in every one. Only the COMPQ and NDX still have their RSI's above 50. Every other index is below that line and nowhere near the "oversold" 30 level. Until we see a curl up in these indicators, I would not be quick to call a bottom here.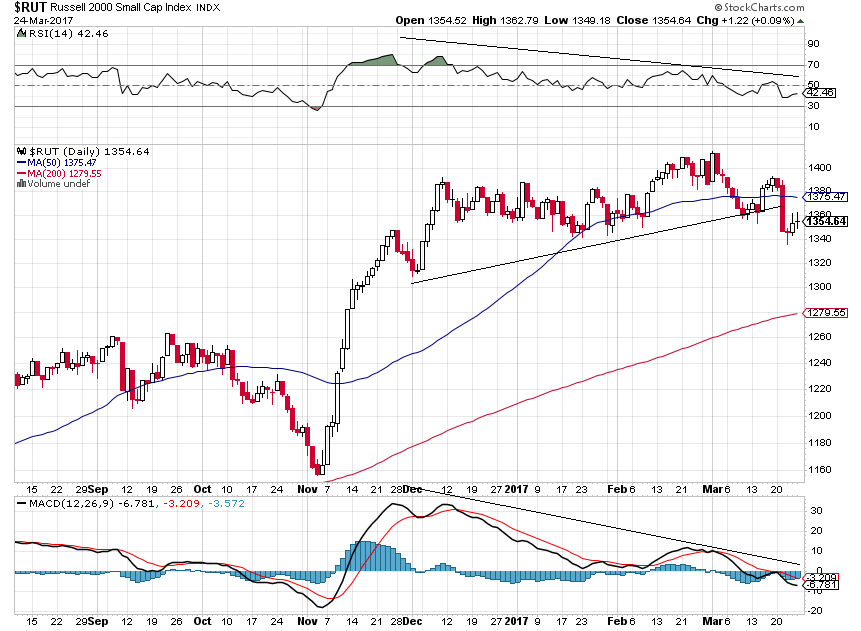 On top of this, my personal long scans have been decreasing in quality for over a month now. New long signals have been a mixed bag with slightly more failing than working. The failures leave me with small losses. Those that are working are still working. Overall, this week, about 1/2 of my holdings displayed zero signs of any price problems while 1/3 hit some trailing profit or sell stops, and another 1/3 hit their final trailing profit or sell stops. I have raised a lot of my stops on my winning positions and if they start to trigger this upcoming week that will completely confirm the weakness I am seeing in the market and my scans.
The most positive data point from this past week comes on the sentiment front. I have been complaining about the bullish sentiment for 1-1/2 to 2 months now. The Investors Intelligence survey continues to be absolutely ridiculous with 56.7% bulls to only 17.3% bears. The AAII survey is back to having bulls on top with bulls coming in at 35.28% to 30.50% bears. Not exactly a group of scared traders there. The VIX did jump to 14 intraday on Friday but is nowhere showing any real fear. However, the IBD Put/Call hit 1.10 on Friday, the NAAIM exposure index is down to 68.68%, and the CNN Money Fear&Greed index is at 30 (fear). It's a start but just a start.
Another potential hint that the tide has not turned favorable overall for the bulls is that, like I said earlier, my scans continue to return very few stocks I am remotely interested in taking on the long side. There has been one group starting to show up in my scans that usually only shows up in weaker markets. Food stocks. On that note, I did receive one clear quality long signal from that group this weekend.
It isn't perfect but my long positions are still doing relatively well while my hedges are currently even working in my favor. I have raised around 20%-25% cash and have about 70% of my portfolios still invested in long positions with 5%-10% of my portfolios in hedge positions. If the market sells off, my hedges will do well and my stops will trigger on my long positions for either large gains, medium sized gains, small gains, breakeven, tiny losses, or small losses. There will be zero big losses as everything has stops (even regional banks now following Tuesday's bloodbath slicing right through my mental stops). If the market rallies, my stops will trigger on my hedges and my long positions will do well.
I am very open minded here. I obviously would love to see the market continue higher so my working long positions can continue to work and produce larger gains. However, I am not a biased trader and will trade the reality in front of me. The reality currently suggest this is a dead-cat bounce that will fail and lead to lower prices in the short-term before any new highs are hit on the intermediate term. I hope I am wrong. If not, I have my hedges and I have my stops. I will raise cash and put it to work in the next round of leading stocks when the market does decide to find a floor. Have a great rest of your weekend. I'll see you back here Monday evening. Trade unbiased. Aloha.