As expected the Federal Reserve hiked rates another 25 basis points at their latest open market committee. Bonds rallied sending yields lower. It is not often you see Bonds and Stocks move in tandem. Volume was higher across the board as traders rushed into the market. Despite the euphoric feeling of the day we could not quite manage to eclipse the high on March 1st after Trump's speech to the joint session of Congress. In any event, it is hard to really find any negatives with this market. We have stocks setting up and the market continuing in its uptrend. We continue to manage our exits and make sure we have our backside protected. This uptrend continues to reward those who have stuck with it.
The next expected rate hike is looking like it will happen in June, but more likely during the July meeting on the 26th. Given today's commentary on GDP we can now scratch it off the list of the most important indicator list thanks to Yellen. This too just after the Atlanta Fed took down its latest GDP forecast to just 0.9%! We are not economists nor do we want to pretend we can forecast how much the economy will grow. It appears only inflation (minus food and energy, because who eats and commutes?) and job figures will be what the Fed will pay attention to. Look for market pundits turn their focus on wage growth as it is the largest component of inflation. While the majority will be focused on things that do not matter we'll continue to focus on what matters: PRICE.
Here are the odds of when we might see another rate hike:
A good sign is seeing high yield pushing higher: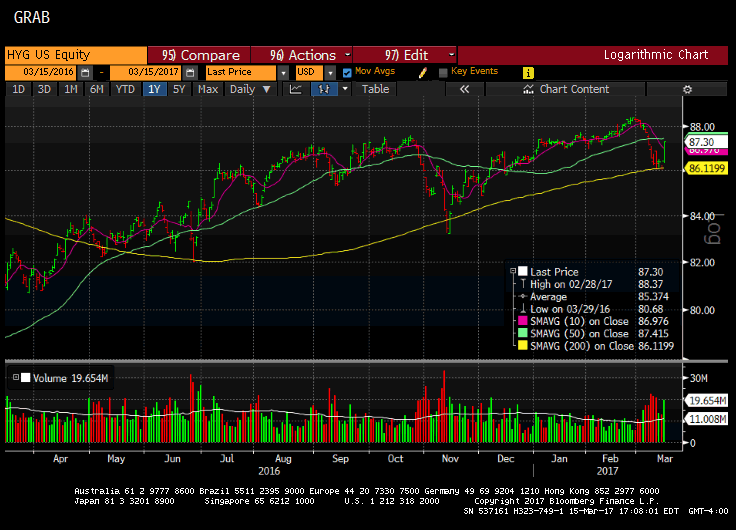 A solid session and one we need to see follow-through on. We need to see this market push higher and build upon today's gains.
Let's get this.